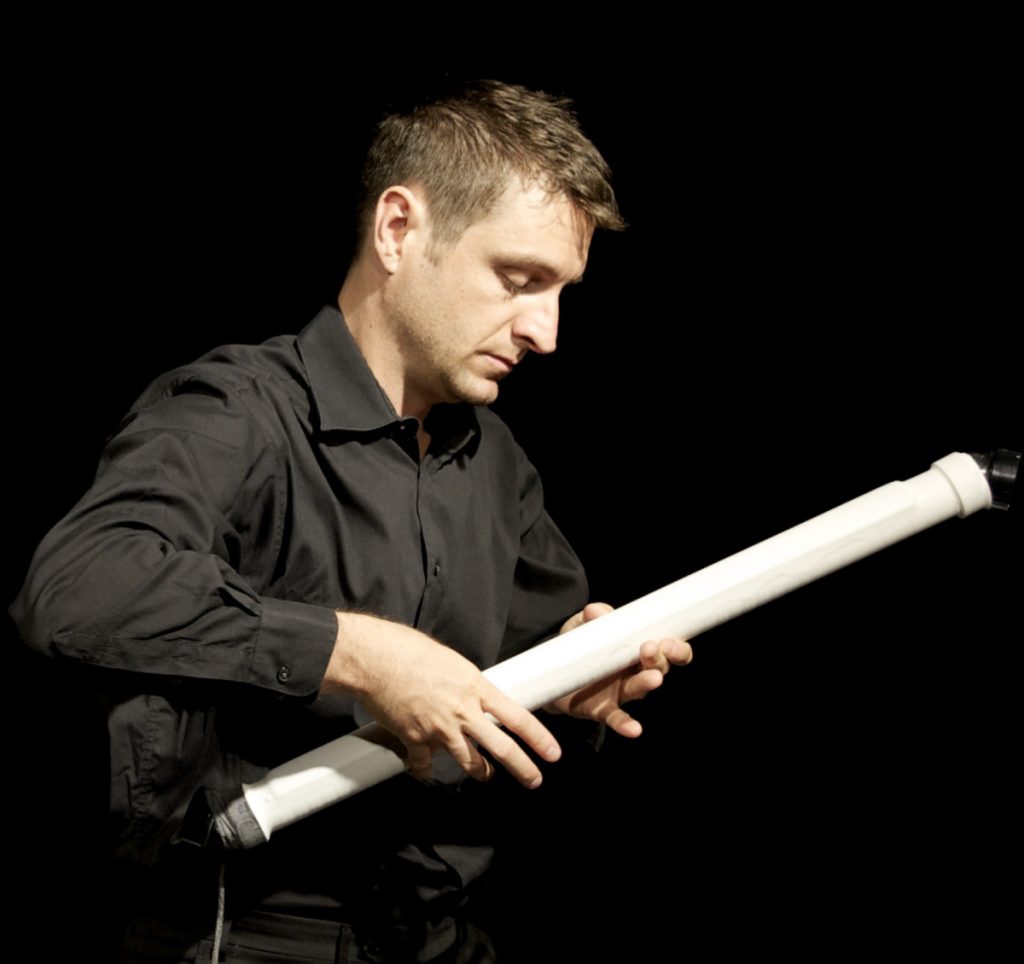 Description:
The T-Stick Digital Musical Instrument.
The T-Stick is a DMI conceived by Joseph Malloch and D. Andrew Stewart at the Input Devices and Music Interaction Laboratory (IDMIL) at McGill University. It has been in development since 2006, has a relatively long history for a DMI, has multiple versions, several expert performers, and has an associated repertoire. More than 20 copies have been built unintended for commercial use. Nevertheless, it has been adopted by expert performers and composers as part of their musical practice including D. Andrew Stewart (Soprano user) and Fernando Rocha (Tenor user). It has appeared in dozens of public appearances in countries such as Canada, USA, Brazil, Italy, Norway, and Portugal.
Documentation
T-Stick connection guide – v1.0 for wireless T-Sticks (model 2GW-19X)
Sopranino 2GW-181. Specification Sheet: Specs-Sopranino-2GW-181
For all related documentation of the 9 T-Sticks available at the IDMIL (software, schematics, specs) go to: https://github.com/IDMIL/TStick
For more information see old project webpage here.
IDMIL Participants:
External Participants:
D. Andrew Stewart – https://blogs.ulethbridge.ca/andrewstewart/tstick/.
Research Areas:
Publications:
Video:
Press:
Antoine Goudreau – Les multiples usages du mot "geste" for sopranino T-Stick

Title – Les multiples usages du mot "geste" for sopranino T-Stick
Composer – Antoine Goudreau
Performer – Jean-Christophe Melançon
Event – the Vivier InterUniversitaire's/Inter-University collaboration project
Date – June 4, 2021
Venue – GÉSU, Montreal
D.Andrew Stewart – Dweller within for sopranino T-stick

Title – Dweller within for sopranino T-stick
Composer – D.Andrew Stewart
Event – live@CIRMMT: CIRMMT Composers
Date – Feb 13, 2020
Venue – Music Multimedia Room, Montreal
blablaTrains (Ana Dall'Ara-Majek and Takuto Fukuda) – Higher Order Gestalt Fromage for two T-Sticks and 24 channel loudspeaker array
Title – Higher Order Gestalt Fromage, for two soprano T-Sticks and 24 channel loudspeaker array
Composer – blablaTrains (Ana Dall'Ara-Majek and Takuto Fukuda)
Event – live@CIRMMT: CIRMMT Composers
Date – Feb 13, 2020
Venue – Music Multimedia Room, Montreal
Vincent Cusson – Balance, for T-Stick
Title – Balance
Artist – Vincent Cusson
Event – improv@CIRMMT: T-Stick Music Creation Project
Date – Feb 11, 2020
Venue – La Vitrola, Montreal
Kasey Pocius – Synthetic Icescapes, for T-Stick and CLOrk
Title – Synthetic Icescapes, for T-Stick and five laptops (Concordia laptop orchestra – CLOrk)
Composer – Kasey Pocius
Laptops – Danielle Savage, Arturo Hidalgo, Gabriel Gustafsson, Liam Mansfield and D. Andrew Stewart
Event – improv@CIRMMT: T-Stick Music Creation Project
Date – Feb 11, 2020
Venue – La Vitrola, Montreal
Group improvisation for 5 T-Sticks
Title – Group improvisation for 5 T-Sticks
Direction – D.Andrew Stewart
T-Stick – Yanik Tremblay-Simard, Kasey Pocius, Erich Barganier, Michal Seta and D.Andrew Stewart
Event – improv@CIRMMT: T-Stick Music Creation Project
Date – Feb 11, 2020
Venue – La Vitrola, Montreal
Michal Seta – Memoidalaube, for T-Stick
Title – Memoidalaube Composer – Michal Seta
T-Stick – Michal Seta and D. Andrew Stewart
Event – improv@CIRMMT: T-Stick Music Creation Project
Date – Feb 11, 2020
Venue – La Vitrola, Montreal
Erich Barganier – The taxidermy of negative space, for T-Stick and dance
Title – The taxidermy of negative space, for T-Stick and dance
Composer – Erich Barganier
Dance/T-Stick – Vânia Eger Pontes
Laptop – Erich Barganier
Event – improv@CIRMMT: T-Stick Music Creation Project
Date – Feb 11, 2020
Venue – La Vitrola, Montreal
Still Life: Eviction for soprano t-stick by D. Andrew Stewart
GuitarAMI + T-Stick Sopranino:
Trouveur (Vi?ctor Ba?ez). Steve Cowan – GuitarAMI, Edu Meneses – T-Stick