Download available
Authors:
Takuto Fukuda, Eduardo Meneses, Travis J. West, Marcelo M. Wanderley
Publication or Conference Title:
Proceedings of the 2021 International Conference on New Interfaces for Musical Expression (NIME 2021)
Abstract:
To tackle digital musical instrument (DMI) longevity and the problem of the second performer, we proposed the T-Stick Music Creation Project, a series of musical commissions along with workshops, mentorship, and technical support, meant to foment composition and performance using the T-Stick and provide an opportunity to improve technical and pedagogical support for the instrument. Based on the project's outcomes, we describe three main contributions: our approach; the artistic works produced; and analysis of these works demonstrating the T-Stick as actuator, modulator, and data provider.
Publication Details:
| | |
| --- | --- |
| Type: | Conference Paper |
| Date: | 06/14/2021 |
| Location: | Shanghai, China |
IDMIL Participants:
Related Projects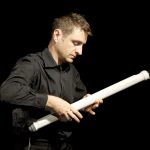 The T-Stick