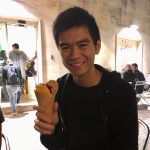 Associate Researcher
Ph.D. Researcher (alumni)
Biography:
Takuto Fukuda(b.1984/Japan) is a composer, sound artist and gestural controller performer. How can music alleviate the intercultural collisions today? This question awakened him to the social significance of the concert, which provides a shared musical experience to all audience members regardless of race, religion and nationality. In hope to attract more people to the concert, he has been researching the enhancement of liveness – what highlights the perception of spatiotemporal co-presence between production and reception such as spontaneity, corporeality and interactivity. His approaches encompass, among others, gestural control of music, interactive audiovisual installations and Game Pieces – compositions whose course is determined in real-time according to rules, chance operations and competitive strifes between performing opponents toward a goal.
His pieces have been prized at several competitions such as Andrew Svoboda Memorial Prize(Canada), CCMC 2011(Japan), WOCMAT 2013(Taiwan) and Musica Nova 2010(Czech), selected for performance at numerous music festivals in Europe, Asia, North and South America such as Ars Electronica(Austria), ISCM World Music Days 2016(Korea) and ICMCs(Slovenia, Greece, USA), and performed at prestigious institutes such as IRCAM(France), ZKM(Germany), ina-GRM(France) and CCRMA(USA).
He received his first MA(Sonology/2011) from The Royal Conservatory in The Hague in The Netherlands and his second MA(Computer Music/2016) from the University of Music and Performing Arts Graz in Austria. Thanks to a FRQSC Doctoral Research Scholarship, he has been pursuing his D.Mus in composition at McGill University in Canada with Chris Paul Harman, Georgia Spiropoulos and Sean Ferguson.
He has attended at private lessons with outstanding composers such as Philippe Leroux, Philippe Manoury, Isabel Mundry, Beat Furrer and Chaya Czernowin at various composition academies such as Matrix Academy(Germany), Impuls Academy(Austria) and Manifeste 2016(France).
Research Areas:
Projects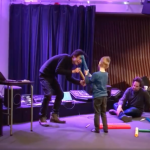 Le Vivier Mobile (T-Stick insertion)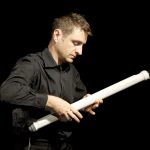 The T-Stick
Publications:
Meneses, E. A. L., Fukuda, T., Wanderley, M. M. (2020). Expanding and Embedding a High-level Gesture Vocabulary for the Digital and Augmented Musical Instruments. In Proc. of the International Conference on Human-Computer Interaction (HCII). Copenhagen, Denmark.
Fukuda, T., Meneses, E., West, T. J., Wanderley, M. M. (2021). The T-Stick Music Creation Project: An approach to building a creative community around a DMI. In Proceedings of the 2021 International Conference on New Interfaces for Musical Expression (NIME 2021). Shanghai, China.
Fukuda, T., Wanderley, M. M. (2023). T-Patch: a software application for T-Stick Digital Musical Instruments Mexico City, MX. In Proceedings of the 2023 International Conference on New Interfaces for Musical Expression (NIME2023). Mexico City, MX.
Contacts: