Authors:
Takuto Fukuda, Marcelo M. Wanderley
Publication or Conference Title:
Proceedings of the 2023 International Conference on New Interfaces for Musical Expression (NIME2023)
Abstract:
This paper introduces the T-Patch, a software application that streamlines the use of T-Stick Digital Musical Instruments (DMIs). It offers a user-friendly interface for gesture extraction, mapping, signal conditioning, sound synthesis, and sequencing with cues, enabling composers to create mu- sic without programming, therefore lowering the entry fee associated with the use of the T-Stick. Our main contribution is two-fold: (1) providing a versatile software solution to address the current lack of music-making support for T-Stick DMI, and (2) highlighting the importance of demonstration content, such as a video, to showcase the instrument's capabilities and inspire new users. The T-Patch provides an accessible and friendly way for using the T- Stick, while offering a shared software solution for various music-making scenarios.
Publication Details:
| | |
| --- | --- |
| Type: | Conference Paper |
| Date: | 06/01/2023 |
| Location: | Mexico City, MX |
IDMIL Participants:
Additional Information:
Related Projects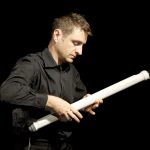 The T-Stick