Authors:
Albert-Ngabo Niyonsenga, Marcelo M. Wanderley
Publication or Conference Title:
Proceedings of the 2023 International Conference on New Interfaces for Musical Expression (NIME2023)
Abstract:
There are multiple barriers to the long term use of digital musical instruments. Among several issues related to instrument accessibility, many DMIs remain as prototypes in research labs never becoming a robust and stable instrument. Technical support is an important part of the long term use of a DMI. Though all musical instruments can eventually break, managing how they are going to be fixed and built within a research organisation can help with the continued usage of the instrument. We apply reliability analysis techniques to estimate the reliability, availability and maintainability characteristics of the T-Stick. Us- ing these characteristics we estimate the amount of spare parts needed to maintain a 99% availability target for the T-Stick. This analysis provides insights on expected maintenance time, costs, and personnel needed when supporting and building DMIs.
Publication Details:
| | |
| --- | --- |
| Type: | Conference Paper |
| Date: | 06/01/2023 |
| Location: | Mexico City, MX |
IDMIL Participants:
Additional Information:
NIME23_Niyonsenga_Maintenance_Support
Related Projects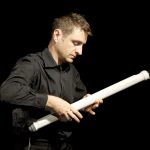 The T-Stick