Authors:
Eduardo Meneses, Thomas Piquet, Jason Noble, Marcelo M. Wanderley
Publication or Conference Title:
Proceedings of the 2023 International Conference on New Interfaces for Musical Expression (NIME2023)
Abstract:
This paper presents Puara, a framework created to tackle problems commonly associated with instrument design, immersive environments, and prototyping. We discuss how exploring Digital Musical Instruments (DMIs) in a collaborative environment led to generalizing procedures that constitute a starting point to solve technical challenges when building, maintaining, and performing with instruments. These challenges guided the framework organization and focus on maintainability, integrability, and modularity. Puara was employed in self-contained systems using 3 DMI building blocks (network manager, gestural descriptors, Media Processing Unit) and supporting 3 established DMIs (GuitarAMI, T- Stick, Probatio) and one new instrument (AMIWrist). We validated Puara with two use cases where parts of the framework were used. Finally, we accessed the influence of frame- works when exploring predefined NIMEs without concern about the inner workings, or shifting composition paradigms between event-based and gesture-based approaches.
Publication Details:
| | |
| --- | --- |
| Type: | Conference Paper |
| Date: | 06/01/2023 |
| Location: | Mexico City, MX |
IDMIL Participants:
Additional Information:
Video – NIME 23 talk by Edu Meneses:
https://www.youtube.com/watch?v=Ur2k1hLfp58
Related Projects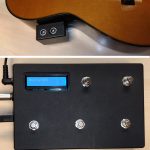 GuitarAMI