Description:
Acoustic musical instruments, although very versatile, have intrinsic sonic limitations due to their construction characteristics. For the classical nylon strings guitar, these restrictions include short sustain and the lack of sound intensity control after the attack.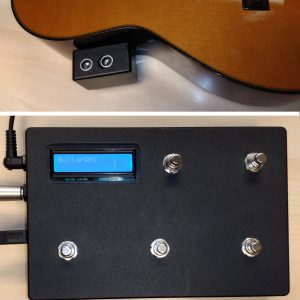 The GuitarAMI uses sensors installed non-invasively in classical guitars to generate data from gestures that control algorithms to overcome these limitations, providing new possibilities of expression for the performer.
IDMIL Participants:
External Participants:
Sérgio Freire Garcia (Universidade Federal de Minas Gerais – UFMG)
Research Areas:
Publications:
Images:
Video:
Press:
Performances from the research-creation projects:
CIRMMT 20th-anniversary live@CIRMMT recording. The Turing Test (Alex Burtzos), Insomnia Rain (Derek Cooper), and Focus – Van Tilburg Remix (Harry Stafylakis and Adam Pietrykowski). Performed by the Cowan-Cicchillitti Duo (Steve Cowan and Adam Cicchillitti). Recorded at the MMR, May 8th and 9th, 2021.
Trouveur, composed by Víctor Báez and performed by Steve Cowan (GuitarAMI) and Edu Meneses (T-Stick) for the 21C Guitar Conference}, day 4 (Portugal, March 25, 2021): https://youtu.be/Ty_cAoRTXZs?t=9080.
GuitarAMI Prototype using Prynth:
GuitarAMI + T-Stick Sopranino: