Download available
Authors:
Eduardo A. L. Meneses, Sérgio Freire, Marcelo M. Wanderley
Publication or Conference Title:
Proceedings of the 2018 International Conference on New Interfaces for Musical Expression (NIME 2018)
Abstract:
This paper describes two augmented nylon-string guitar projects developed in different institutions. After a bibliographic review of Augmented Musical Instruments (AMIs) based on guitars, we present the details of the two projects and compare them using an adapted dimensional space representation. Highlighting the complementarity and cross-influences between the projects, we propose avenues for future collaborative work.
Publication Details:
| | |
| --- | --- |
| Type: | Conference Paper |
| Date: | 06/03/2018 |
| Pages: | 222–227 |
| Location: | Blacksburg, VA, USA |
IDMIL Participants:
Related Projects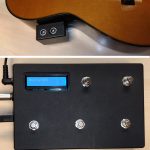 GuitarAMI