Download available
Authors:
Gabriel Vigliensoni, Marcelo M. Wanderley
Publication or Conference Title:
Proceedings of the 2010 international Computer Music Conference (ICMC2010)
Abstract:
SoundCatcher is an open-air gestural controller designed to control a looper and time-freezing sound patch. It makes use of ultrasonic sensors to measure the distance of the performer's hands to the device located in a microphone stand. Tactile and visual feedback using a pair of vibrating motors and LEDs are provided to inform the performer when she is inside the sensed space. In addition, the rotational speed of the motors is scaled according to each hand distance to the microphone stand to provide tactile cues about hand position.
Publication Details:
| | |
| --- | --- |
| Type: | Conference Paper |
| Date: | 06/01/2010 |
| Pages: | 100-103 |
| Location: | New York, NY, USA |
IDMIL Participants:
Additional Information:
SoundCatcher – demo (video):
https://vimeo.com/8112647
Related Projects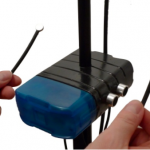 The SoundCatcher