Download available
Authors:
Ziyue Piao, Marcelo M. Wanderley, Felipe Verdugo
Publication or Conference Title:
Proceedings of the 2023 International Conference on ArtsIT, Interactivity and Game Creation (ArtsIT 2023)
Abstract:
Music learning and practice may be enhanced by the use of biofeedback based on both learners' and teachers' muscle activity, an essential component of music performance typically unavailable to listeners. By incorporating haptic vibrations, MappEMG enables the audience to experience the performers' muscle effort. This paper updates the MappEMG system to make muscle effort explicit in music lessons. We integrated a low-cost EMG system (BITalino MuscleBIT) and modified processing, communication, and mobile application modules. We conducted a series of experimental teaching workshops where a piano professor guided beginner and intermediate piano students with the updated MappEMG. Four interaction scenarios with MappEMG were identified from these workshops, and we gathered feedback on the initial effectiveness of using MappEMG in music pedagogy.
Publication Details:
| | |
| --- | --- |
| Type: | Conference Paper |
| Date: | 11/29/2023 |
IDMIL Participants:
Related Projects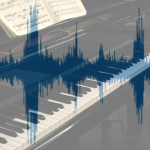 MappEMG