Description:
MappEMG, developed jointly at the IDMIL and the S2M lab, consists of a data pipeline for music performance and learning that uses muscle activity captured through surface electromyography (EMG) to produce vibrotactile feedback. The main objective of the pipeline is to make muscle effort perceptible through haptic stimuli, a rather non-visible dimension of musicians' gestures. MappEMG can be used to translate into vibrations muscle effort related not only to actual sound production but also to the embodiment of the performers' expressive intentions. First developed to be used with the Vibrapixels, the pipeline was adapted to produce the vibrotactile feedback with a specifically designed iOS application named hAPPtiks, aiming to control the vibration of smartphones. MappEMG is being used in the context of live musical performances and pedagogical contexts.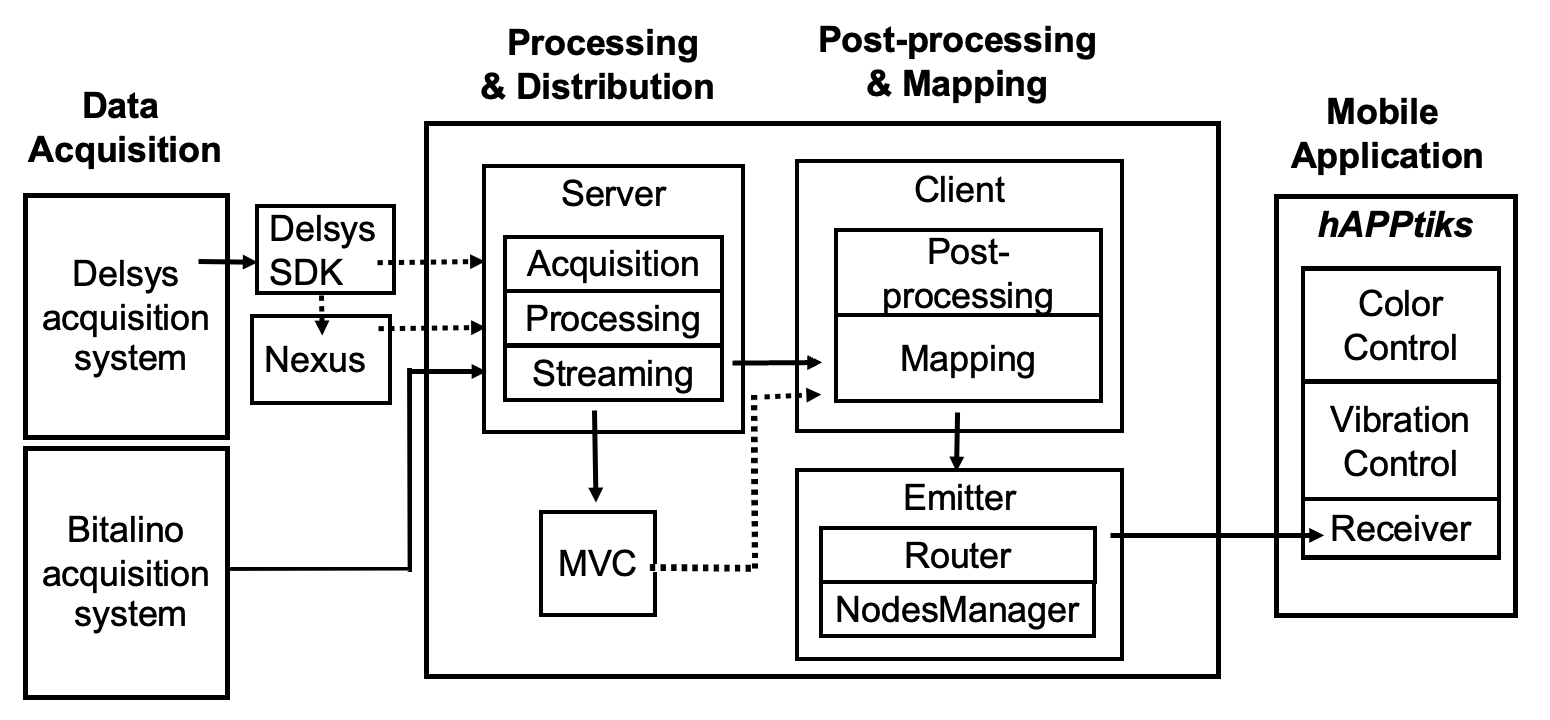 Related Videos
IDMIL Participants:
External Participants:
Amedeo Ceglia
Alexandre Burton
Research Areas:
Funding:
FQRSC
Pôle lavallois d'enseignement supérieur en arts numériques et économie créative
SSHRC
Publications:
Verdugo, F., Kokubu, S., Wang, J., Wanderley, M. M. (2020). MappEMG: Supporting Musical Expression with Vibrotactile Feedback by Capturing Gestural Features through Electromyography. In Proc. of the International Workshop on Haptic and Audio Interaction Design (HAID). Montreal, Canada.
Verdugo, F., Ceglia, A., Frisson, C., Burton, A., Begon, M., Gibet, S., Wanderley, M. M. (2022). Feeling the Effort of Classical Musicians – A Pipeline from Electromyography to Smartphone Vibration for Live Music Performance. In Proceedings of the 2022 International Conference on New Interfaces for Musical Expression (NIME 2022).
Video: