Download available
Authors:
Alex Nieva
Publication or Conference Title:
M.A. Thesis, McGill University
Abstract:
Various challenges must be overcome when designing and building input devices for musical expression such as digital musical instruments (DMIs), electronic wearables for performance, among others. Amid the technical ones are the rapid unpredictable advancement of technology, changes in supporting personnel, and a lack of technical documentation. These challenges, if not adequately addressed, in many cases lead to abandonment of such devices and endeavors. This thesis presents three case studies that aim to provide maintenance strategies and design recommendations for the creation of more robust, long-lasting interfaces. The first case study illustrates the challenge of maintaining several models of the DMI called the T-Stick in the hopes of extending their useful lifetime. The T-Sticks were originally conceived in 2006 and 20 copies have been built in the past 12 years. Although all of the instruments preserve the original DMI design concept, their evolution has distinguished them through variations in choice of microcontrollers, sensors, and size. For this case study, we worked with eight copies of the T-Sticks to overcome issues related to the aging and obsolescence of components, changes in external software, inconsistencies in firmware across versions, a lack of documentation, and, in general, the problem of technical maintenance. In the second case study, we redesigned the electronics of a ninth T-Stick, the WiFi Sopranino. For this process we used the lessons learned from the first case study, while keeping its original DMI design concept. This work, in turn, informed the third case study, where we sought to design and build a new interface for musical expression to augment cello performance by installing a visual affordance on the instrument. In short, this thesis aims to connect the concepts of technical maintenance and electronic redesign and design to provide a systematic approach to the maintenance of these type of devices. We articulate design recommendations such as maintainability, reusability, and self-containment as useful in the design of input devices for musical expression.
Publication Details:
| | |
| --- | --- |
| Type: | Masters Thesis |
| Date: | 10/01/2018 |
| Pages: | 86 |
| Location: | Montreal, Canada |
IDMIL Participants:
Additional Information:
260663142_Nieva_Alex_MusicResearch_ethesis
Related Projects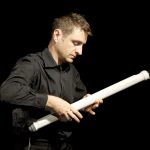 The T-Stick