Authors:
Paul Buser
Publication or Conference Title:
M.A. Thesis, McGill University
Abstract:
Digital musical instruments (DMIs) offer new sonic and expressive possibilities, but their usage is often hampered by difficulty in setup and usage. To address these issues, I created a technical artifact called the "T-Tree" which is a device that attempts to mitigate these difficulties for a subset of DMIs known as "T-Sticks." The goals of the T-Tree are to (a) allow for easy setup and initial configuration of T-Sticks allowing for immediate if limited use, and (b) mitigate obsolescence of older T-Sticks. I created three T-Trees in the course of my research; two using an initial design, and a third improving on that design. The T-Trees were used in two public exhibitions: an art installation and concert. The T-Trees greatly simplify the setup and usage of T-Sticks, and aspects of their design can be applied to others working in DMI creation.
Publication Details:
| | |
| --- | --- |
| Type: | Masters Thesis |
| Date: | 09/19/2023 |
| Pages: | 74 |
| Location: | Montreal, Qc, Canada |
IDMIL Participants:
Additional Information:
261012928_Buser_Paul_MT_Thesis
Related Projects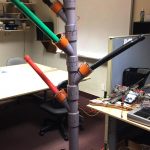 T-Tree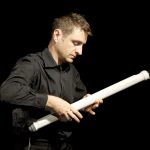 The T-Stick