Authors:
Paul Buser, Kasey Pocius, Linnea Kirby, Marcelo M. Wanderley
Publication or Conference Title:
Proceedings of the 2023 International Conference on New Interfaces for Musical Expression (NIME2023)
Abstract:
In this paper, the authors describe working with and on the T-Tree, a device that integrates multiple instances of a gestural controller known as the T-Stick. The T-Tree is used in two public performance contexts; the results of those performances are summarized, potential improvements to the design of the hardware and software are introduced, and issues are identified. Improvements in the T-Tree from the first version are also discussed. Finally, the authors present future design improvements for the T-Tree 2.0.
Publication Details:
| | |
| --- | --- |
| Type: | Conference Paper |
| Date: | 06/01/2023 |
| Location: | Mexico City, MX |
IDMIL Participants:
Additional Information:
Related Projects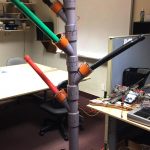 T-Tree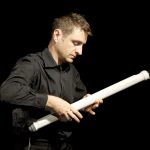 The T-Stick