Download available
Authors:
Valérie Lamontagne, Maurizio Martinucci, Chris Salter, Ian Hattwick, Ivan Franco, Marcello Giordano, Deborah Egloff, Marcelo Wanderley
Publication or Conference Title:
21st International Symposium on Electronic Art
Abstract:
Utilizing the tactile sensory channel as a key sensory modality in a full body, cross media artistic installation presents unique challenges. In this paper we describe our experiences with the design and utilization of garments containing embedded sensors and vibrotactile actuators. We follow the garments from their conception through their use in a artistic installation experienced by over 300 visitors. In particular, we focus on the relationship between touch, hearing, and sight – both in the technological implementation as well as the artistic conception.
Publication Details:
| | |
| --- | --- |
| Type: | Conference Paper |
| Date: | 08/17/2015 |
| Location: | Vancouver, Canada |
IDMIL Participants:
Related Projects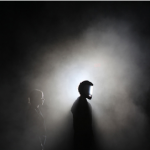 Ilinx