Download available
Authors:
Vincent Verfaille, Oswald Quek, Marcelo M. Wanderley
Publication or Conference Title:
Proceedings of the 2006 International Conference on Auditory Display (ICAD2006)
Abstract:
This paper describes the sonification of movements of three clarinetists'. Rather than quantifying the different kinds of movements and presenting such information using visual methods such as graphs or tables, sonification of such gestures provides a complementary way of analyzing movements which is possibly more informative than visualisation of data. This paper describes the de- sign methodologies, mappings, and synthesis techniques used in transforming a set of data markers each with x, y and z cartesian coordinates into informative and intelligible sonifications.
Publication Details:
| | |
| --- | --- |
| Type: | Conference Paper |
| Date: | 07/01/2006 |
| Pages: | 194–197 |
| Location: | London, England |
Related Projects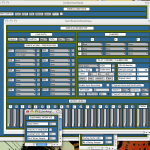 Sonification of Gesture in Music