Download available
Authors:
Linnea Kirby, Paul Buser, Marcelo M. Wanderley
Publication or Conference Title:
Proceedings of the 2022 International Conference on New Interfaces for Musical Expression (NIME2022)
Abstract:
The authors introduce and document how to build the t-Tree, a digital musical instrument (DMI), interactive music system (IMS), hub, and docking station that embeds several t-Sticks. The t-Tree's potential for collaborative performance as well as an installation is discussed. Specific design choices and inspiration for the t-Tree are explored. Finally, a prototype is developed and showcased that attempts to meet the authors' goals of creating a novel musical experience for musicians and non-musicians alike, expanding on the premise of the original t-Stick, and mitigating technical obsolescence of DMIs.
Publication Details:
| | |
| --- | --- |
| Type: | Conference Paper |
| Date: | 07/01/2022 |
| Location: | Auckland, NZ |
| DOI: | 10.21428/92fbeb44.2d00f04f |
IDMIL Participants:
Related Projects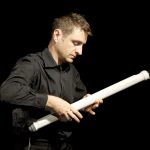 The T-Stick