Download available
Authors:
Valérian Fraisse, Marcelo M. Wanderley, Catherine Guastavino
Publication or Conference Title:
Multimodal Technol. Interact.
Abstract:
We report on a conceptual framework for describing interactive sound installations from three complementary perspectives: artistic intention, interaction and system design. Its elaboration was informed by a systematic review of 181 peer-reviewed publications retrieved from the Scopus database, which describe 195 interactive sound installations. The resulting taxonomy is based on the comparison of the different facets of the installations reported in the literature and on existing frameworks, and it was used to characterize all publications. A visualization tool was developed to explore the different facets and identify trends and gaps in the literature. The main findings are presented in terms of bibliometric analysis, and from the three perspectives considered. Various trends were derived from the database, among which we found that interactive sound installations are of prominent interest in the field of computer science. Furthermore, most installations described in the corpus consist of prototypes or belong to exhibitions, output two sensory modalities and include three or more sound sources. Beyond the trends, this review highlights a wide range of practices and a great variety of approaches to the design of interactive sound installations.
Publication Details:
| | |
| --- | --- |
| Type: | Journal Paper |
| Date: | 04/11/2021 |
| Volume: | 5, 19 |
| Location: | Basel, Switzerland |
| DOI: | doi.org/10.3390/ mti5040019 |
IDMIL Participants:
Related Projects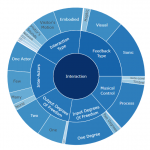 Interactive Sound Installations Database