Download available
Authors:
Clayton Rosa Mamedes, Mailis G. Rodrigues, Marcelo M. Wanderley, Jônatas Manzolli, Denise H. L. Garcia, Paulo Ferreira Lopes
Publication or Conference Title:
Proceedings of the 2014 International Conference on New Interfaces for Musical Expression (NIME 2014)
Abstract:
Digital Musical Instruments (DMIs) have difficulties establishing themselves after their creation. A huge number of DMIs is presented every year and few of them actually remain in use. Several causes could explain this reality, among them the lack of a proper instrumental technique, inadequacy of the traditional musical notation and the non- existence of a repertoire dedicated to the instrument.
In this paper we present the case study of Entoa, the first written music for Intonaspacio, a DMI we designed in our research project. We propose a process of composition that considers the design of the instrument as a required step in order to start defining an instrumental technique. We present an overview of the instrument and strategies for mapping data from sensors to sound processing, in order to accomplish an expressive performance.
Publication Details:
| | |
| --- | --- |
| Type: | Conference Paper |
| Date: | 06/01/2014 |
| Pages: | 509-512 |
| Location: | London, UK |
| DOI: | 10.5281/zenodo.1178861 |
IDMIL Participants:
Related Projects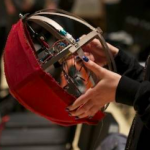 Intonaspacio