Download available
Authors:
Valérian Fraisse, Catherine Guastavino, Marcelo M. Wanderley
Publication or Conference Title:
Proceedings of the 2021 International Conference on New Interfaces for Musical Expression (NIME 2021)
Abstract:
This paper presents a theoretical framework for describing interactive sound installations, along with an interactive database, on a web application, for visualizing various features of sound installations. A corpus of 195 interactive sound installations was reviewed to derive a taxonomy describing them across three perspectives: Artistic Intention, Interaction and System Design. A web application is provided to dynamically visualize and explore the corpus of sound installations using interactive charts (https://isi-database.herokuapp.com/). Our contribution is two-sided: we provide a theoretical framework to characterize interactive sound installations as well as a tool to inform sound artists and designers about up-to-date practices regarding interactive sound installations design.
Publication Details:
| | |
| --- | --- |
| Type: | Conference Paper |
| Date: | 06/14/2021 |
| Location: | Shanghai, China |
IDMIL Participants:
Related Projects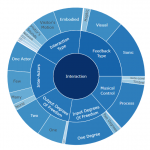 Interactive Sound Installations Database