Authors:
Travis J. West, Alexandra Bachmayer, Sandeep Bhagwati, Joanna Berzowska, Marcelo M. Wanderley
Publication or Conference Title:
Proc. of the International Conference on Human-Computer Interaction (HCII)
Abstract:
We present the body:suit:score, a vibrotactile musical score that displays instructions and signals directly on musicians' bodies using an array of vibrating motors. Initially inspired by the third author's need for a new kind of score in his compositional practice, the body:suit:score facilitates the exploration of novel musical experiences and performer-audience relationships that are impossible or impractical without such a score, such as allowing the performers to freely move about the performance space amidst the audience. The body:suit:score has been designed through a close collaborative process between artists and technicians. A number of notable design elements and functionalities have emerged in response to this process, and in particular due to the strong requirements for usability and maintainability of the system.
Publication Details:
| | |
| --- | --- |
| Type: | Conference Paper |
| Date: | 06/01/2019 |
| Location: | Orlando, FL, USA |
IDMIL Participants:
Additional Information:
Related Projects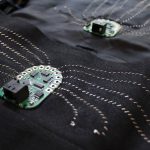 :BODY:SUIT:SCORE