Download available
Authors:
Brady Boettcher, John Sullivan, Marcelo M. Wanderley
Publication or Conference Title:
New Interfaces for Musical Expression (NIME) 2022
Abstract:
Digital musical instruments (DMIs) built to be used in performance settings need to go beyond the prototypical stage of design to become robust, reliable, and responsive devices for extensive usage. This paper presents the Tapbox and the Slapbox, two generations of a standalone DMI built for percussion practice. After summarizing the requirements for performance DMIs from previous surveys, we introduce the Tapbox and comment on its strong and weak points. We then focus on the design process of the Slapbox, an improved version that captures a broader range of percussive gestures. Design tasks are reflected upon, including enclosure design, sensor evaluations, gesture extraction algorithms, and sound synthesis methods and mappings. Practical exploration of the Slapbox by two professional percussionists is performed and their insights summarized, providing directions for future work.
Publication Details:
| | |
| --- | --- |
| Type: | Conference Paper |
| Date: | 06/28/2022 |
| DOI: | https://doi.org/10.21428/92fbeb44.78fd89cc |
IDMIL Participants:
Related Projects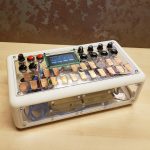 Noiseboxes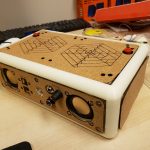 Slapbox