Download available
Authors:
Avrum Hollinger, Marcelo M. Wanderley
Publication or Conference Title:
IEEE Sensors Conference
Abstract:
An opto-acoustic cello has been designed to investigate the neural correlates of cello performance using functional magnetic resonance imaging (MRI). Through the design of specialized optical sensors, for the first time, we are able to synchronously capture a cellist's acoustic performance and musical gestures within the MRI scanner. The electromagnetic constraints and confined space of the scanner were overcome through the design of a minimalist composite cello body, a bridge and transparent fingerboard embedded with optical fibers, and a sensorized shortened bow. Using an array of fibers embedded in the fingerboard, we captured finger position and vibrato. Bending losses in fibers placed between the bridge and string, as a contact microphone, allowed us to capture the acoustic performance. Bow displacement was acquired separately using an optical flow sensor and by measuring Faraday rotation in an optical crystal within the magnetic field of the scanner.
Publication Details:
| | |
| --- | --- |
| Type: | Conference Paper |
| Date: | 06/01/2013 |
| Publisher: | IEEE |
IDMIL Participants:
Additional Information:
Video of the conference presentation:
https://www.youtube.com/watch?v=TiAnXJU2-i4
Related Projects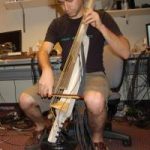 fMRI-Compatible Cello