Download available
Authors:
Christian Frisson, Marcelo M. Wanderley
Publication or Conference Title:
Arts
Editors:
Justin Paterson and Marcelo M. Wanderley
Abstract:
A growing body of work on musical haptics focuses on vibrotactile feedback, while musical applications of force feedback, though more than four decades old, are sparser. This paper reviews related work combining music and haptics, focusing on force feedback. We then discuss the limitations of these works and elicit the main challenges in current applications of force feedback and music (FF&M), which are as follows: modularity; replicability; affordability; and usability. We call for the following opportunities in future research works on FF&M: embedding audio and haptic software into hardware modules, networking multiple modules with distributed control, and authoring with audio-inspired and audio-coupled tools. We illustrate our review with recent efforts to develop an affordable, open-source and self-contained 1-Degree-of-Freedom (DoF) rotary force-feedback device for musical applications, i.e., the TorqueTuner, and to embed audio and haptic processing and authoring in module firmware, with ForceHost, and examine their advantages and drawbacks in light of the opportunities presented in the text.
Publication Details:
| | |
| --- | --- |
| Type: | Journal Paper |
| Date: | 07/10/2023 |
| Volume: | 12(4) |
| Publisher: | MDPI |
| DOI: | 10.3390/arts12040147 |
IDMIL Participants:
Related Projects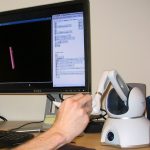 Force feedback for audio systems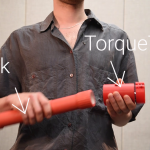 TorqueTuner: rotary haptic force feedback for DMIs