Download available
Authors:
Ian Hattwick, Preston Beebe, Zachary Hale, Marcelo M. Wanderley, Philippe Leroux, Fabrice Marandola
Publication or Conference Title:
Proceedings of the 2014 International Conference on New Interfaces for Musical Expression (NIME 2014)
Abstract:
This paper presents results from the development of a digital musical instrument which uses audio feature extraction for the control of sound synthesis. Our implementation utilizes multi-band audio analysis to generate control signals. This technique is well-suited to instruments for which the gestural interface is intentionally weakly defined. We present a percussion instrument utilizing this technique in which the timbral characteristics of found objects are the primary source of audio for analysis.
Publication Details:
| | |
| --- | --- |
| Type: | Conference Paper |
| Date: | 06/30/2014 |
| Pages: | 597-600 |
| Location: | London, UK |
| DOI: | 10.5281/zenodo.1178790 |
IDMIL Participants:
Related Projects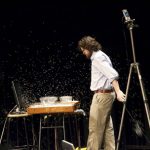 Unsounding Objects