Authors:
Mark Zadel, Paul C. Kosek, Marcelo M. Wanderley
Publication or Conference Title:
An Inertial, Pliable Interface
Abstract:
In this paper we present an interface whose design is based on four concepts: interface physicality, integrality of control, inertial sensing and performer energy measurement. An in- terface prototype is described which integrates these concepts in its design and its implementation details are presented. Findings from the initial performance experiments are given which illustrate its the musical potential and limitiations.
Publication Details:
| | |
| --- | --- |
| Type: | Research Report |
| Date: | 06/30/2004 |
IDMIL Participants:
Additional Information:
This paper was accepted for publication in the NIME 2004 conference but never submitted in the camera-ready format.
Related Projects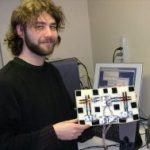 An Inertial, Pliable Interface