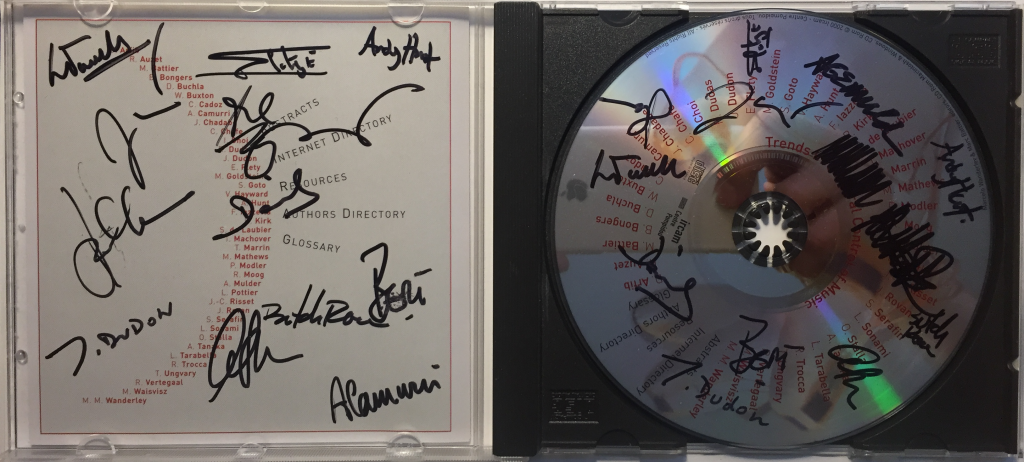 Description:
Trends in Gestural Control of Music is the first English language book on gestures applied to computer music/sound control. It is an edited electronic publication (texts, videos and other resources) on music interaction and digital musical instruments.
Published in 2000, it predates the NIME CHI 2001 workshop (cited in the NIME workshop proposal for the CHI 2001 conference) and the subsequent NIME conferences, showing a comprehensive picture of the field of NIME before NIME.
It consists of a round table on Electronic Controllers in Music Performance and Composition, 24 articles (tutorials and case studies) on the various aspects of this emerging field, a complete bibliography (up to the year 2000) and a resources section.
Though more than 20 years old (!), most of its content is still relevant today, providing a glimpse of the strengths and the variety of research and development in this area before the NIME conferences and shedding light on several ideas further discussed at NIME.
Read online
IDMIL Participants:
External Participants:
Editors: Marcelo M. Wanderley and Marc Battier
Authors: Daniel Arfib, Roland Auzet, Marc Battier, Bert Bongers, Claude Cadoz, Antonio Camurri, Joel Chadabe, Insook Choi, Richard Dudas, Jacques Dudon, Emmanuel Fléty, Mark Goldstein, Suguru Goto, Vincent Hayward, Andy Hunt, Fernando Iazzetta, Ross Kirk, Serge de Laubier, Teresa Marrin Nakra, Paul Modler, Axel Mulder, Laurent Pottier, Joseph Rovan, Stefania Serafin, Ollivier Stalla, Atau Tanaka, Leonello Tarabella, Riccardo Trocca, Tamas Ungvary, Roel Vertegaal, Marcelo Wanderley.
Round Table participants: William Buxton, Don Buchla, Chris Chafe, Tod Machover, Max Matthews, Bob Moog, Jean-Claude Risset, Laetitia Sonami and Michel Waisvisz.
Round table designed by Butch Rovan, Marc Battier and Marcelo M. Wanderley.
Round Table: Electronic Controllers in Music Performance and Composition – PDF
PDFs of articles (printing version) available here.
Research Areas:
Publications:
Images: