Description:
ThumbTech: A Novel Input Device for Thumb Control
This project consists of developing a hand-held, one-thumb input device small enough to be placed on gestural controllers providing performers with a simple way to select between multiple options with few movements of a thumb.
Regarding the design of the device, the first step involves analyzing common pointing devices that use one-finger input, like the mouse wheel, the isometric pointing device on the ThinkPad laptop, or the cell phone keypad. The second step involves adapting these common input devices and sensors for the new purpose of thumb control.
There are many musical applications for this novel input device. For example, the musician could use this novel input device to select the low-pass filter effect, and then control the filter cutoff with the tilt or inclination of the controller [1][4]. In other gestural controllers, like the Meta-Instrument by Serge de Laubier, this input device could replace the dozens of switches in its design [2]. Such a device can also be extremely useful for augmented acoustic instruments (acoustic instruments augmented by the use of various sensors) [3], such as the meta-saxophone [1].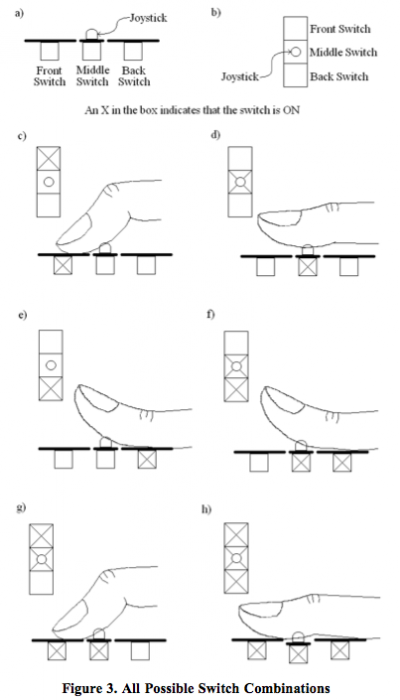 References
M. Burtner. Noisegate 67 for Metasaxophone: Composition and Performance Considerations of a New Computer Music Controller. In Proceedings of the 2002 Conference on New Interfaces for Musical Expression, Dublin, Ireland, 2002.

S. de Laubier and V. Goudard. Meta-Instrument 3: A Look Over 17 Years of Practice. In Proceedings of the 2006 Conference on New Interfaces for Musical Expression, Paris, France, 2006.

E. R. Miranda and M. M. Wanderley. New Digital Musical Instruments: Control and Interaction Beyond the Keyboard. Middelton, WI: A-R Editions, Inc. 2006.

G. P. Scavone. THE PIPE: Explorations with Breath Control. In Proceedings of the 2003 Conference on New Interfaces for Musical Expression, Montreal, Canada, 2003.
Project Type:
Master's Thesis (M.A. in Music Technology)
IDMIL Participants:
Research Areas: