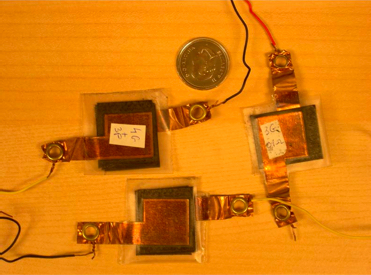 Description:
Many contact (force/pressure) industrial sensor technologies exist and have been used in numerous musical interfaces, including the Interlink FSR and the LuSence Standard CPS 155 linear potentiometer. However all those systems have similar drawbacks: they only exist as defined products with normalised sizes, shapes and electrical characteristics.
In this project we seek to develop contact sensors using a variety of materials – including paper, anti-static foams, specialty polymer films, among others – to produce inexpensive pressure or position sensors with adapted characteristics for musical controllers.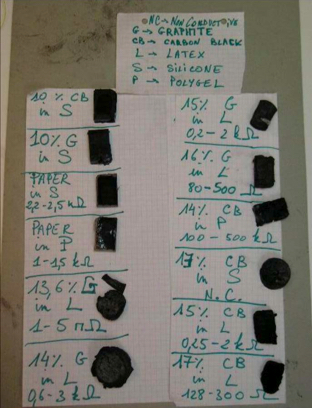 Studies on conductive inks and manual printing processes are conducted to design conductive circuitries, and also on composite materials with elastomers for tactile feeling and conductive fillers for electric conductivity are developed to make pressure sensitive materials.
IDMIL Participants:
External Participants:
Denis Curtil (EFPG, Grenoble, France)
Theo van de Ven (Pulp and Paper Research Center, McGill University)
Research Areas:
Funding:
Publications:
Koehly, R., Wanderley, M. M., Curtil, D. (2006). Paper FSRs and Latex/Fabric Traction Sensors: Methods for the Development of Home-Made Touch Sensors. In Proceedings of the 2006 International Conference on New Interfaces for Musical Expression (NIME 2006) (pp. 230– 233). Paris, France.
Koehly, R., Curtil, D., van de Ven, T., Wanderley, M. M. (2007). Carbon Black Loaded Paper: An Intelligent Substrate for Electronic Sensors Design. In Proceedings of the IARIGAI 2007 Conference. Grenoble, France.