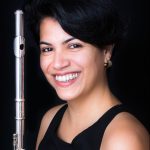 Associate Researcher
Visiting Researcher (alumni)
Biography:
Thaís Fernandes Santos is a Brazilian flutist and interdisciplinary researcher. She holds a Ph.D. degree in music performance  (2017), under the supervision of Professor Maurício Loureiro (UFMG) and Dr. Marcelo Wanderley (McGill). Her Ph.D. thesis "The relationship between ancillary gestures and musical phrase organization: application on flute performance" investigates how musicians' expressive intentions reflect on physical movements. By assuming that motion is associated with musical communication, this study investigates whether gestures can express how performers understand the musical structure and convey a musical phrase's direction.
As a flute player, Thaís performed with the Espírito Santo Symphony Orchestra, during 2010 and 2013. Besides, she collaborated with the Minas Gerais Symphony Orchestra, both in Brazil. She was the principal flute of the Palácio das Artes Young Symphony Orchestra in 2008. Also, she performed in ensemble music such as Trio A Tempo and Duets of flute and piano and flute and bassoon.
She uses her interdisciplinary knowledge to bridge the gaps between scientific research and musical performance, contributing to both domains.
Academic Background
Bachelor in Music Performance (Flute) – Federal University of Minas Gerais / UFMG (Brazil) 2009
Music Performance – Flute (Master degree) – Federal University of Rio Grande do Sul / UFRGS (Brazil) 2012
Ph.D. in Music Performance – Federal University of Minas Gerais / UFRGS (Brazil) 2017
Visiting Researcher (CAPES – Brazil) – Music and Technology at McGill University (Supervisor: Prof. Marcelo M. Wanderley) (2015-2016)
Research Interests
Musical expressiveness

Physical motion in music performance

Instrumental and ancillary gestures

Manipulation of acoustic parameters

Ensemble performance
Publications
Santos, T. F. (2019). The reciprocity between ancillary gesture and music structure performed by expert musicians. In: New Interfaces for Musical Expression, p. 292-297.
Santos, T. F.; Gerling, C. C. (2019). Gestures as an integral part of musical performance. In: XXIX International Conference of Anppom (Brazilian Association of Research in Music).
Santos, T. F.; Moreira, N. A.; Gerling, C. C. (2020) .Le musicien comme agent de la performance musicale: une analyse multimodale et audiotactile. In Revue d'etudes du Jazz et des Musiques Audiotactiles (RJMA) – Institut de Recherche en Musicologie (IReMus), Sorbonne Universite.
Santos, T. F.; Oliveira Neto, A. B. ; Loureiro, M. A. (2014). Musical communication of flutists in ensemble performance. In: International Conference of Students of Systematic Musicology, v. VII. p. 1-5.
Research Areas:
Contacts: