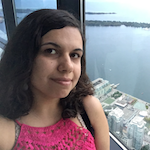 Visiting Researcher (alumni)
Biography:
Geise Santos is a PhD student at University of Campinas (Unicamp, Brazil) in Computer Science. She is doing a graduate research trainee at Input Devices and Music Interaction Laboratory (IDMIL) and Centre for Interdisciplinary Research in Media Music and Technology (CIRMMT).
Her main research goal as a PhD research trainee is investigating gait parameters from motion data acquired by different motion capture systems to evaluate the performance of these systems and track their limitations for gait analysis.
Her research interests are movement analysis from motion sensor data, gait analysis for recognition purposes, motion capture, machine learning, and pattern recognition.
Research Areas:
Publications:
Freire, S., Santos, G., Armondes, A., Meneses, E. A. L., Wanderley, M. M. (2020). Evaluation of Inertial Sensor Data by a Comparison with Optical Motion Capture Data of Guitar Strumming Gestures. In Sensors.
Santos, G., Wang, J., Medeiros, C., Wanderley, M. M., Tavares, T., Rocha, A. (2021). Comparative Latency Analysis of Optical and Inertial Motion Capture Systems for Gestural Analysis and Musical Performance. In Proceedings of the 2021 International Conference on New Interfaces for Musical Expression (NIME 2021). Shanghai, China.
Contacts: