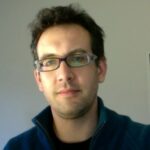 Post-Doctoral Researcher (alumni)
Biography:
After coming to the lab as a visiting researcher in 2008 funded by the COST SID action (Sonic Interaction Design) initiative. Florian returned in 2015 as a postdoctoral fellow funded through a B5 research-creation fund from FRQSC. CIRMMT collaborator Florian Grond (www.grond.at) is currently working on a research-creation project in collaboration with the Société des Arts Technologiques (SAT). He previously received a postdoc award by the Centre for Interdisciplinary Rehabilitation Research in Greater Montreal (CRIR) for his research at Concordia University. He holds an MSc (2002) from the Karl-Franzens University in Graz (Austria). From 2003 to 2007, he worked as a research associate and guest artist at the Center for Art and Media (ZKM in Karlsruhe, Germany). He studied at the Cognitive Interaction Technology, Center of Excellence (CITEC) and received a doctorate from Bielefeld University, Germany, in 2013. His artistic and academic work, published in various journal articles, book chapters, and conference papers and exhibited in venues across Japan, Europe and North America, focuses on the intersections between art, science and technology with a special interest in auditory display, sonic interaction design and assistive technology.
Research Interests
Sonic interaction with higher order ambisonics.

Sonic interaction design in assistive technology.

Sonification of musician's ancillary gestures.
Contacts: