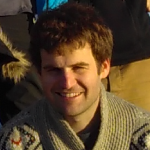 Ph.D. Researcher
Biography:
I am a PhD student in composition at McGill University. I am interested in Digital Music Instruments (especially the Karlax) and their interactions with acoustic instruments. I obtained a Master's degree in composition at the Haute Ecole de Musique de Genève.
Research Areas:
Publications:
Lavastre, B., Wanderley, M. M. (2021). Mixed Writing with Karlax and Acoustic Instruments: Interaction Strategies from Computer Music. In Proceedings of the 15th International Symposium on Computer Music Multidisciplinary Research (CMMR). Tokyo, Japan.
Lavastre, B., Wanderley, M. M. (2023). Interaction Strategies in Composition for Karlax and Acoustic Instruments. In Music in the AI Era. 15th International Symposium, CMMR 2021, November 15–19, 2021 Revised Selected Papers, LNCS 13770 (pp. 163-179). Aramaki, M., Hirata, K., Kitahara, T., Kronland-Martinet and Sølvi Ystad, R. (Eds.). Springer Nature.Swtizerland.
Contacts: